Minor ingredient automation systems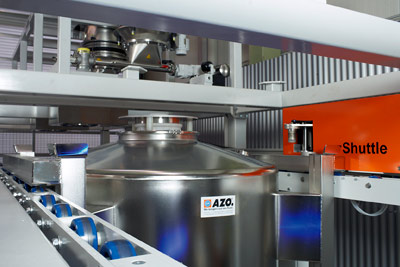 A flexible production process reduces production costs and the necessity of stocking finished products. When a large variety of minor ingredients is part of the recipe composition, the automation of minor ingredient handling especially becomes a worthwhile investment.
AZO® process engineering experts have pioneered the development of several bulk material handling systems that allow for fast recipe change-overs as well as contamination and dust free precision dosing.
AZO's fully automated feeding of minor bulk material, ingredients, and additives into the powder mixing process fulfills hygienic requirements as well as increases productivity and efficiency of a plant. The accuracy of the integrated weighing units allows achieving a constant high quality output while reducing waste production at the same time.
The AZO COMPONENTER®, with its round or linear design is a safe solution for precise weighing. The DOSINENTER® with DosiBoxes® and DosiLogistic® with integrated product and operator protection are a cost-effective alternative for the automatic handling of small bulk materials quantities when using frequently changed material components.
In order to increase the capacity and the output of a plant while having a large variety of different recipes, the AZO® ShuttleDos is the right and energy efficient solution for a bulk material handling automation system.
Features of AZO's minor ingredient automation systems:
Fast recipe change-overs
Able to handle a large variety of recipes
Flexible production schedules
Precise weighing of powder ingredients
Dust-free handling of powder bulk materials
Fulfilling hygienic standards
High output of finished and mixed product
A constant good quality of the mixed product
Track and tracing
Your benefits:
Productivity improvement
Process reliability increase
Reduction of waste production
Efficiency increase
Capacity increase
Profitability improvement