Pneumatic Conveying Systems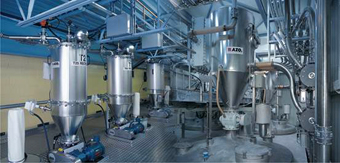 Pneumatic conveying of bulk material is a clean and dust-free method of automating bulk material handling. When production capacities need to increase, shortage of labor causes production downtime, or labor costs increase, bulk material system automation is a solution.
For over 60 years, AZO's process engineering experts have been designing bulk material handling systems guiding our customers towards increased productivity and efficiency improvements. Transferring bulk material by pneumatic conveying instead of manual labor is amongst others a widely used solution for system automation.
A vacuum pneumatic conveying system for bulk materials consists of at least a feed-in point such as a bag tipping station or a big bag discharge station, a dosing device and a receiving volume, often a vacuum receiver or a vacuum scale. In order to reduce maintenance intervals and to minimize down times, AZO's sturdy stainless steel vacuum receivers are designed for easy cleaning and simple access to the filter. The heart of the vacuum pneumatic system is the vacuum blower, which when started generates a vacuum in the pipe causing bulk material being transferred to the receiving vessel. The receiver separates bulk material and conveying air through a filter. Depending on the application, different filter materials can be utilized.
Depending on the products and the process, different methods of pneumatic conveying can be engineered by AZO's process engineering experts. Improving productivity and aiming for efficient solutions is the order of the day. In case of long distances or high bulk material throughputs, pressure conveying systems offer excellent benefits. Here the pressure blower generates the conveying air. A rotary valve doses the bulk material into the conveying air after passing through an air cooler. AZO utilizes special pipe clamps to connect the feed-in point and the pressure receiver via pipes.
Handling mixed bulk materials is no challenge for AZO's process engineering experts. To minimize the effect of segregation and therefore to reduce waste production and to ensure a constant quality output, AZO's mixed product bulk material conveying systems are utilizing the dense phase conveying method.
Features of AZO's pneumatic conveying systems:
Higher throughput while less manual work
Precise weighing of powder ingredients
Reduction of human error to reduce waste production
Dust-free handling of powder bulk materials
Fulfilling hygienic standards
A constant good quality of the mixed product
Track and tracing possible in a batch system
Your benefits:
Productivity improvement
Process reliability increase
Reduction of waste production
Efficiency increase
Capacity increase
Profitability improvement